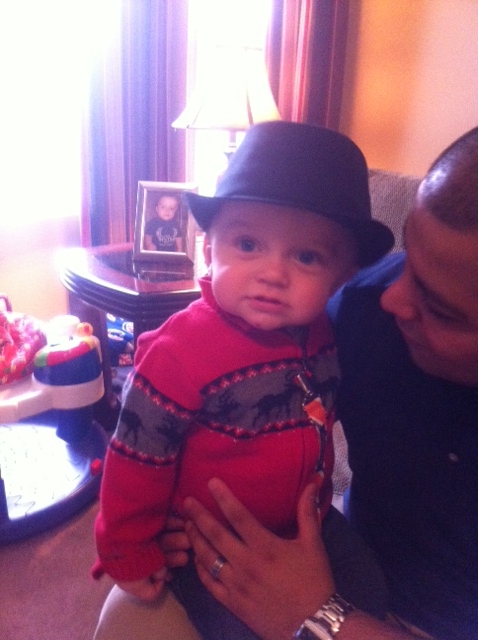 Last year on this date, was Kaleb's first cranial vault surgery. It was scheduled for November 29th 2012 for 1:00p.m.. We had to be there at the hospital for 11:30 and we left our house at 9:00 in the morning. I remember everything that day very clearly and all these rush of emotions come back.
I remember my mom, dad, my sister Ashley along with my aunt Debi coming to our house that morning. I remember everyone trying to put on a brave face but you can see deep down in everyone's eyes what they were all thinking and feeling. I know, cause we felt the same way but no one wanted to say it.
Brian and I felt very blessed that we had them there with us that morning, following us to the hospital and every step of the way. When we finally arrived at the hospital, other family members where there waiting and even more started to trickle in. It was such a wonderful feeling of love and strength. We couldn't imagine doing this alone and thinking back I don't know how we did it or how we got through it but we did. My husband and I were just talking last night on our way home from celebrating Thanksgiving with the family.
Reflecting and thinking back on everything that we have been through and it's just amazing. A whole year of up and down on roller coaster ride that we did not sign up for. I will tell you one thing if we didn't have God and the family support we do in our life, there would be no getting through anything. My heart goes out to all the families that have or are going through what we have and are experiencing.
No matter what their condition or circumstance is, your heart breaks for others and you weep with them. This whole experience has changed our lives forever and we defiantly see things in a new light. Almost like a great big awakening. We have a lot to be grateful for not just yesterday  but EVERYDAY.
We hope everyone had a wonderful and safe holiday. GOD BLESS