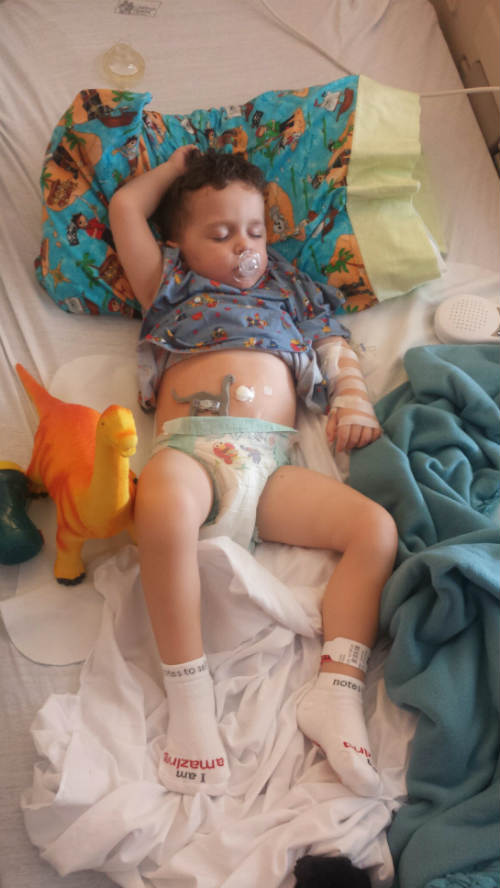 Sorry we haven't updated in awhile but things were not going as smoothly as we hoped for. It's been a long haul that lasted throughout the month of January. Kaleb's treatments with his cecostomy button were not working correctly. We were in constant communication with the doctors and nurses trying different approaches and everyday it was the same.... no results.
The cecostomy button was not performing how it should and Kaleb was filling up with waste. After multiple phone calls we had to go back to Wisconsin to start Kaleb on a special medication that gave the little guy contractions. This medicine is horrible and heartbreaking to watch him endure. If we couldn't get the cecostomy button to work, the next step was to have Kaleb's colon removed. The doctor's thought process was that hopefully this contraction medication would give Kaleb's colon the jump start it needed to perform well with the cecostomy button.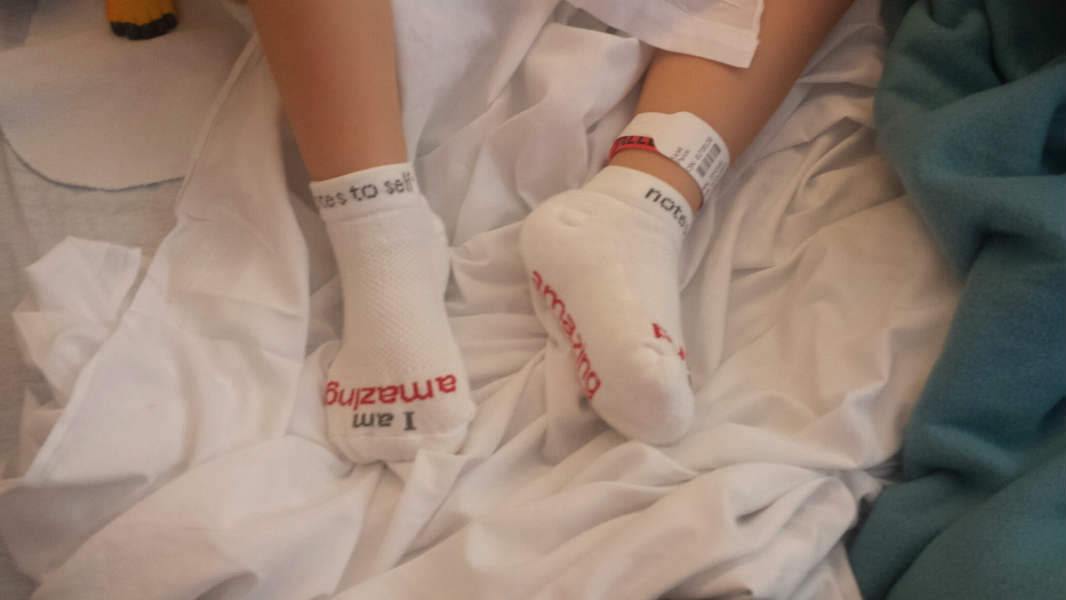 All we could do was pray to God to take some of Kaleb's pain and pray for the medicine to work. In the end, we did get great results from the medication and his cecostomy button was working. It was a big positive step in the right direction and it gave us all the hope we needed. Even though we are all running on exhaust fumes, still Kaleb goes around with a smile on his face. Even when he doesn't feel good, you still see a twinkle in his big beautiful blue eyes. If that's not Gods work, I don't know what is.
We still have a couple little bumps to work out. Kaleb started to develop granulated tissue around his button site. Granulated tissue is not the best and also can prevent the wound from healing. It can be sensitive, painful and cause everything to bleed and leak more than it should. So we have to keep everything clean and frequently change his pads. We had to get this medicated cream that already seems to be working, so we are thrilled.
The next little bump... Kaleb developed two stitch abscess which means his body was rejecting his sutures that are inside of him. We just have to take extra cleaning precautions along with taking pictures to keep the doctors updated. As you can see we have our hands full as always. But a wise woman once told me that sometimes you just have to surrender and leave it all at Gods feet because it is too much to handle and process.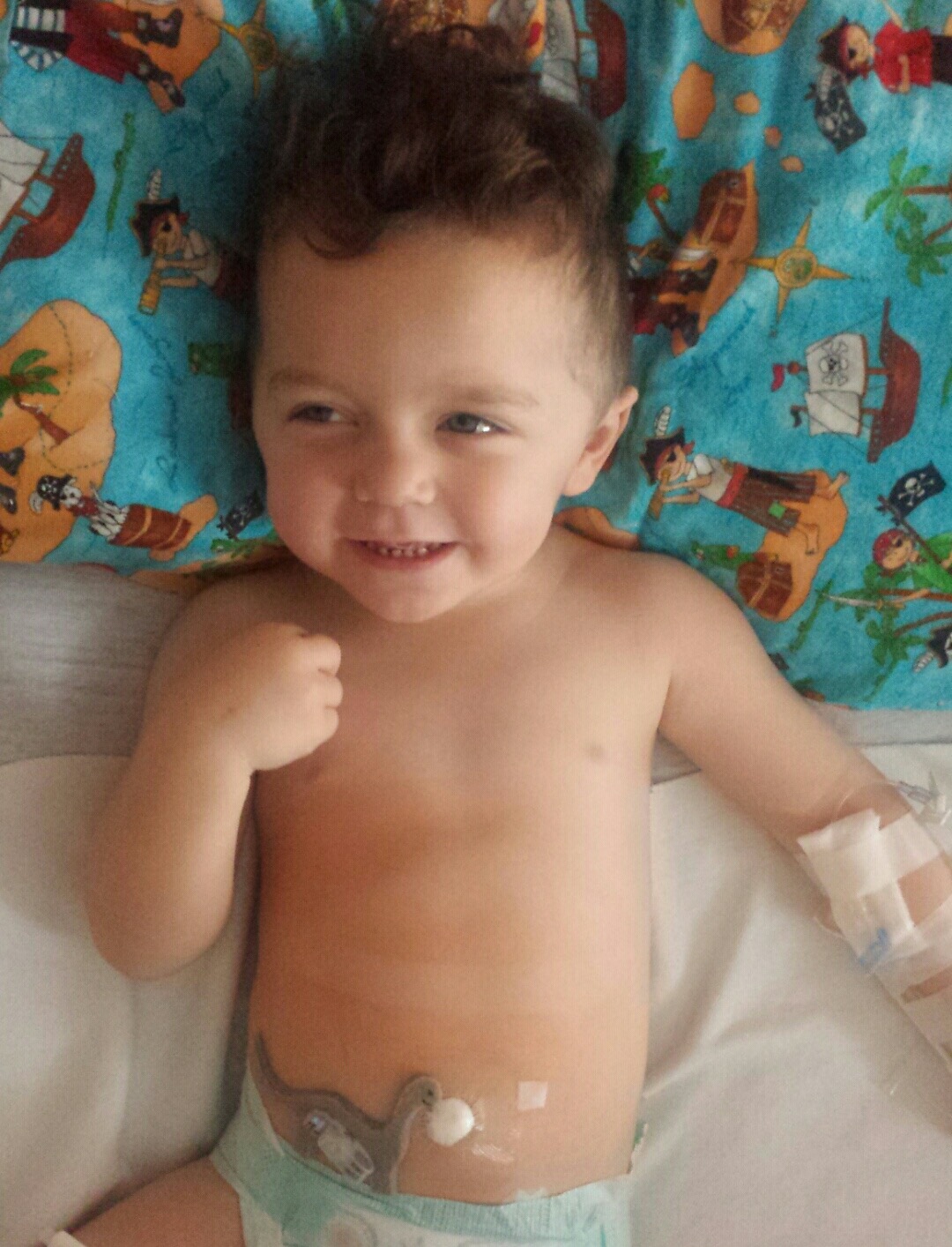 Our life is definitely going to be a lot harder and different. Kaleb's treatment from start to finish is about two hours long and has to be done every night around the same time. We will miss out on a lot and life will be a new adjustment. But we will also gain many positive blessings from our hardship. We gain so much wisdom, long term compassion, knowledge and more insight that others cannot quite see yet. All kinds of qualities that make you become a better person, a stronger person.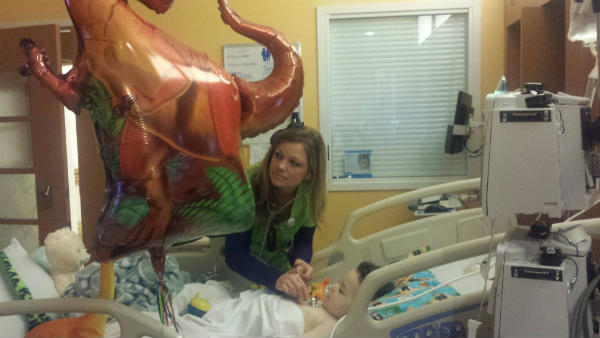 When your tired, don't give up, just surrender. God will take care of the rest until we are strong enough to get back up on our feet again. Let the Almighty hand guide you... Surrender.  Thanks again for all your prayers for our little superhero and thank you to my cousin Karrie, who reminded me once again who is really in charge of the bigger picture. Don't lose hope, keep your faith, hold onto the love and when your tired, rest and let God take over..... Surrender.  I came across this song and wanted to share my heart:
https://www.youtube.com/watch?v=_L08S4i9Y2k&app=desktop